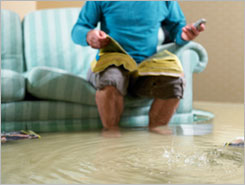 Texas Flooding and Drainage Law Attorney
Was Your Property Damaged by a Flood or Drainage Problem?
If your property floods, even once, you are required to disclose this when you go to sell. This fact will likely diminish the value of your investment and make it more difficult to sell. If you believe the flooding on your property may have been caused by poor design, faulty construction, or negligence, you need an experienced attorney to help you get the compensation you deserve.
At Bradley Law Firm in Houston, we have extensive experience handling flooding and drainage litigation throughout the state of Texas. With more than 20 years of experience in environmental, flooding and drainage law, you can count on us to get the job done right and to increase your chances of success.
Get the compensation you deserve after a flood. Call us today at 713-974-4800 today for a free consultation with flooding and drainage lawyer James E. Bradley.
Why Did Your Property Flood?
There are a number of reasons properties can flood. Sometimes, it's simply an unavoidable natural occurrence. But in far too many cases, the flooding could have been prevented by better design or construction by engineers or developers. If inadequate detention facilities or a poor design has seriously diminished the appraised value of your property, you deserve compensation.
Flood Insurance Subrogation
In addition to claims for property owners looking to be compensated for diminished property value and other damages, we handle cases of flood insurance subrogation. If your insurance company has paid out a settlement initially and believes someone else is responsible for the damages, we can help recover what has been paid out.
We Offer Free Consultations
For more information on flooding and drainage litigation and how we can help you get the compensation you deserve, contact us today for a free consultation.